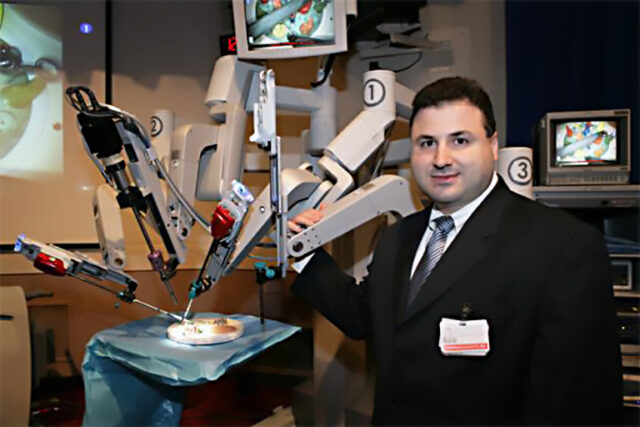 Domenico Savatta, MD FACS
Dr. Domenico Savatta is a partner at one of the largest urology groups in the United States.
Dr. Domenico Savatta has been practicing in West Orange, NJ since 2003. He strives to care for each patient as he would a family member. Whether the problem is easy to fix or complicated, he understands the patient's concerns and will tailor the treatment plan for each patient's individual needs.
He has been pioneering robotic surgery since 2004 and has contributed to the advancement of the field of urologic robotic surgery. Dr. Savatta has expertise in minimally-invasive robotic and laparoscopic surgery for prostate, kidney, and bladder cancers. Dr. Savatta has combined his undergraduate training in engineering with his surgical training in open and laparoscopic surgery to provide state-of-the-art treatments for all urologic disorders. Dr. Savatta's goal is to provide the most compassionate and informative care while preserving and maximizing patients quality of life.
Dr. Savatta has been an early adopter of technology and is available for second opinions and management through in person visits at his Rahway and West Orange offices or through the NJU Telemedicine service.
Dr. Savatta started his robotic surgery practice at Newark Beth Israel in 2004. NBI was the first hospital in the Saint Barnabas Helath Care System to have a Da Vinci robot. NBI became the first hospital on the east coast to have a da Vinci S robot and Dr. Savatta performed the first robotic surgery with it on March 13, 2006. The patient had a prostate that weighed almost 200 grams, 30 is normal and had multiple prior prostate operations.
Dr. Savatta has 2 New Jersey Offices, West Orange and Rahway and has privileges at 4 Hospitals in Union and Essex counties.
This website provides general information, photographs, and videos of urologic conditions and surgeries. This general educational content is intended for Dr. Savatta's patients and interested qualified health care professionals. Patients should discuss their particular problem with their own physician or urologist.
[rev_slider slidertitle="Testimonials" alias="testimonials-1″]
[heading text="SPECIALTIES" tag="h1″]
Bladder Cancer
Bladder cancer can occur in men and women. The most common sign of bladder cancer is blood in the urine.
Prostatectomy for BPH
For extremely enlarged prostates, there have been limited choices for a successful long-term option. One of the few treatments is the Robotic Simple Prostatectomy.