Bloodless Prostate Cancer Surgery
Prostate cancer management has had significant advances since the turn of the century. Surgery has been the gold standard of treatment for cancer cure, but complications of impotence and incontinence, prolonged hospital stays and risks of blood loss have been cited as incentives for patients to seek out less invasive approaches, even if success rates were not quite as high.
Referred to by many as robotic surgery for prostate cancer or robotic prostatectomy, da Vinci® Prostatectomy can be a more accurate, robot-assisted, minimally invasive surgery that is quickly becoming the preferred treatment for removal of the prostate following early diagnosis of prostate cancer. In fact, studies suggest that da Vinci Prostatectomy may be the most effective, least invasive prostate surgery performed today.
Robotic Prostatectomy represents a quantum leap forward in our ability to effectively treat prostate cancer, reduce hospital stays, and minimize the risk of complications. In addition, in my opinion, the long-term sexual and urinary bother symptoms can be less than for current surgical techniques or any form of radiation therapy as well. Dr. Savatta has been performing athermal nerve-sparing robotic prostatectomy since 2004.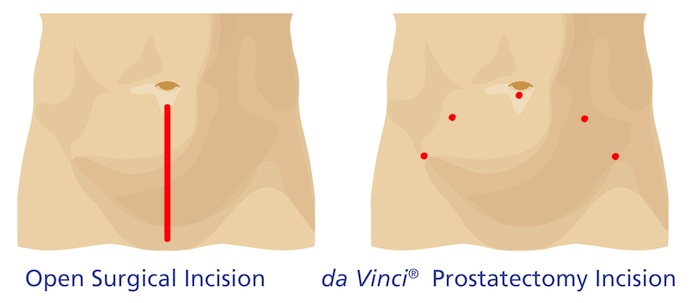 Advantages of the minimally invasive robotic procedure can include reduced pain, scarring, incision size, risk of infection, and less operative blood loss. Patients typically stay in the hospital overnight and return to work within one to two weeks. Continence is achieved more quickly and completely than with traditional surgical techniques. Dr. Savatta has been performing reconstruction of the rhabdosphincter to aid in return of urinary control during the prostate cancer surgery since 2007. In addition, the neurovascular bundles that are responsible for erections can be dissected from the prostate less traumatically, and therefore erectile function can be regained more quickly and with greater frequency.
About forty percent of Dr. Savatta's patients who have normal erections before surgery and have both nerves spared have reported regaining erections and having intercourse within 1 month of surgery. In short, with the da Vinci® Surgical System and an experienced surgeon, prostate cancer patients can finally realize the promise of effective cancer control with significantly less morbidity.
Dr. Louis Galdieri assisted Dr. Domenico Savatta in performing the first Robotic Prostatectomy in Essex, Morris, or Union counties. This was done at Newark Beth Israel in December of 2004.
Patients have come from as far as California, Europe, and Africa to have daVinci prostatectomy surgery.
1. Most effective minimally invasive surgery in terms of cancer control, potency and continence, cancer control being defined in part by margin rates and PSA test scores. The following studies provide support for da Vinci Prostatectomy's effectiveness in these three areas: Ahlering TE, Woo D, Eichel L, Lee DI, Edwards R, Skarecky DW. Robot-assisted versus open radical prostatectomy: a comparison of one surgeon's outcomes. Urology. 2004 May;63(5):819-22. Menon M, Tewari A, Peabody JO, Shrivastava A, Kaul S, Bhandari A, Hemal AK. Vattikuti Institute prostatectomy, a technique of robotic radical prostatectomy for management of localized carcinoma of the prostate: experience of over 1100 cases. Urol Clin North Am. 2004 Nov;31(4):701-17. Tewari A, Srivasatava A, Menon M; Members of the VIP Team. A prospective comparison of radical retropubic and robot-assisted prostatectomy: experience in one institution. BJU Int. 2003 Aug;92(3):205-10. Please also see the Clinical References section of the site for additional clinical support.
While clinical studies support the effectiveness of the da Vinci® System when used in minimally invasive surgery, individual results may vary. Surgery with the da Vinci Surgical System may not be appropriate for every individual.  Any surgery has inherent risk from the operation as well as the anesthesia. Always ask your doctor about all treatment options, as well as their risks and benefits.